Giving in this industry isn't easy, until now!
Giving hasn't been easy for the cannabis industry for many reasons.
Federal law forbids dispensaries from deducting charitable donations, part of Internal Revenue Code 280E .
Most nonprofits don't know what they can or can't do with money from the cannabis industry. Technically, it's illegal to accept money from an illegal entity, which federally (501(c)(3) nonprofits are federally acknowledged organizations) companies who grow or distribute the plant are illegal entities. That is where CannaMakeADifference comes in!
CannaMakeADifference Day is a win-win for both givers and nonprofits.
---
What We Do
Match Cannabis Companies with Nonprofits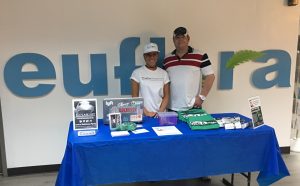 We assist cannabis companies by linking them to local nonprofits which will accept money and/or donations from the cannabis industry.
We vet 501(c)(3) nonprofit organizations, looking at their 501(c)(3) status with Federal and State departments, review mission, contact information, and make sure that the charity understands the pitfalls and benefits or accepting funding from the cannabis industry. All nonprofits within the CannaMakeADifference system have agreed to acknowledge cannabis companies like they would any other company, whether as a donor or sponsor.
Cannabis companies looking to connect with nonprofits who will accept their funding can find charities on our system and/or receive assistance in developing their corporate social responsibility programs through access to our business association.
We are currently in Colorado, with plans to expand to every legalized state by the end of 2018.
We will launch our online matching platform on December 1, 2017, for Colorado cannabis companies to find nonprofits. To see a sample of the platform, CLICK HERE!
---
Disaster RELEAF

With all the disasters in the world recently, we have founded Disaster Releaf . Disaster RELEAF is an organization dedicated to networking pro-cannabis individuals and companies which can provide first-responder, non-emergency, support to local communities throughout the United States (future plans include disasters around the world) affected by natural disasters. Funded fully by the cannabis community, we provide local communities with food, water, infrastructure and structural assistance. Through our team of experts with experience from military, nonprofit, disaster, first responders, search and rescue, government, and logistics backgrounds, we provide strategic support dedicated to getting relief to those who are most affected and need the most assistance in the fastest and most efficient way possible. Our response is not specified for those who are pro-cannabis, it is for anyone directly affected by a natural disaster.
We are looking for cannabis companies to provide sponsorship of this effort and also for individual teams which head into the disaster areas which provide these teams with adequate transportation, food, supplies, equipment, etc.
---
Day of Giving
We provide the entire cannabis community the opportunity to put down the stigma of individuals and companies in the industry, the "stoner" stigma through philanthropy. Days of Giving are state specific and provide one 24-hour period of giving for everyone who is pro-cannabis in a state to reach a goal for their state. 100% of donations on that day are tax-deductible (cannabis companies need to
Cannabis companies can engage with us in the following ways:
Donate – Contact Donor@CannaMakeADifference.org or call us at 720.675.9317 to find out more about providing a donation from your company to CannaMakeADifference Day! If you are able to donate using a credit card, you can do so on our donation page.
Coupon Book Participant – If you are interested in providing a coupon for a product or service which will be provided to those consumers donating $42 or more, we will include your coupon in our easy-to-use APP, which works just like a coupon book. If you are a dispensary and would like to make more of a difference, you can also become a MATCHING PARTNER. Find out more HERE or by calling 720.675.9317.
Promote – If you use email or text messaging to reach your consumers, help CannaMakeADifference Day by sending out notifications and reminders about the Cannabis Community's Day of Giving. We have content to make it a simple copy and paste.
Sponsor – Be the Difference! Help us by becoming a sponsor TODAY! We have nine (9) sponsorships available for our CannaMakeADifference Day in Colorado. As a sponsor, your company will receive first right of refusal for all future days of giving in the next state we engage with and Colorado for 2018! Learn more about it HERE.
---